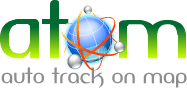 Atom GPS freeware easily geotags your photos directly from your GPS device or track log. By simply connecting your GPS Device to Atom GPS and selecting your photos you can add their geolocation in one click. This action allows you to write the geolocation data to your photos exifs (information stored about your pictures including date, time and other such information about your photos). Our free GPS software supports all digital cameras and the most popular GPS devices and GPS log files!

By Geotagging your photos you can sort them by geographic location for easy browsing, and also upload your pictures to Google Earth, Google maps, Panoramio, LOCR, Flickr.
Key Features
Supports many GPS Devices including Wintec, PhotoMate, MainNav, Magelan…
Track log files formats supported are: .kml, .gpx, .kmz, .nmea …
All digital cameras supported
Photo format supported: .jpg, .cr2, .nef … (see below)
Recreate your excursions and travel itineraries by geotagging your photos.
Google Earth export
Languages: english
How it works:
1) Take pictures at the same time as you have your GPS turned on.
2) Transfer photos to computer and extract GPS log to computer using ATOM GPS freeware (or import .kml, or .gpx if already extracted).
3) In Atom GPS select "write data ", writing geolocation permanently in photo exif meta data.
Photo formats supported:
| File Type | Description |
| --- | --- |
| CR2 | Canon RAW 2 (TIFF-based) |
| CRW, CIFF | Canon RAW Camera Image File Format |
| CS1 | Sinar CaptureShop 1-shot RAW (PSD-based) |
| DCP | DNG Camera Profile (DNG-like) |
| DNG | Digital Negative (TIFF-based) |
| EPS, EPSF, PS | [Encapsulated] PostScript Format |
| ERF | Epson RAW Format (TIFF-based) |
| GIF | Compuserve Graphics Interchange Format |
| HDP, WDP | Windows HD Photo / Media Photo (TIFF-based) |
| ICC, ICM | International Color Consortium color profile |
| JP2, JPX | JPEG 2000 image |
| JPEG, JPG | Joint Photographic Experts Group image |
| MEF | Mamiya (RAW) Electronic Format (TIFF-based) |
| MIE | Meta Information Encapsulation |
| MOS | Creo Leaf Mosaic (TIFF-based) |
| MRW | Minolta RAW |
| NEF | Nikon (RAW) Electronic Format (TIFF-based) |
| NRW | Nikon RAW (2) (TIFF-based) |
| ORF | Olympus RAW Format (TIFF-based) |
| PEF | Pentax (RAW) Electronic Format (TIFF-based) |
| PNG, JNG, MNG | Portable/JPEG/Multiple-image Network Graphics |
| PPM, PBM, PGM | Portable Pixel/Bit/Gray Map |
| PSD | PhotoShop Drawing |
| RAF | FujiFilm RAW Format |
| RAW | Panasonic RAW (TIFF-based) |
| RW2 | Panasonic RAW 2 (TIFF-based) |
| THM | Canon Thumbnail (JPEG) |
| TIFF, TIF | Tagged Image File Format |
| VRD | Canon DPP Recipe Data |
Download
ATOM GPS

– it's Free!

Free geotagging software supporting many GPS devices and various log and track files:
Screenshots
Get Support
If you have a problem using this product, please visit our support section or our Forum.
Webmasters and Press
You can get more information about selling our products or becoming an affiliate in the affiliate section. You will find PAD files and references to promote the product.
You can contact us for more information.