GreenCloud is an eco-friendly PDF and printer driver to save money on your daily print jobs, it's reducing your ink and paper usage. You can even convert Word to Pdf! Includes a FREE Word to PDF converter*!
GreenCloud for PDF and printer – Good for your wallet, good for the planet !
Create green Pdf files. Use the same print preview dialog from Word, a browser or your PDF reader.

Save up to 60% of ink, paper and toner! Join a community of 50 000 active users, who already printed more than 4 million pages with our software.
Windows 7 · 8 · 10 · 11
Download GreenCloud Printer
100% Clean – No adware, no spyware, virus checked
Buy Pro License
Main Features
GreenCloud® Printer is a virtual driver to optimize your existing physical printer. Once it is installed it previews the pages before  printing  for :
Preview print jobs before actual printing
Remove unwanted pages
Combine 1, 2, 4 pages per sheet of paper
Print to PDF – fast PDF creator built-in
Directly print to Dropbox or

Google Drive

(will create a pdf document), as a cloud pdf printer
Double-sided printing, black & white, and more features can be switched on/off with one click
Optimized ink saver with 3 levels of saving ink options
Doc to PDF converter
It's the best toner saver, because it's a software!
Free version

Number of pages is limited
Small watermark on pages
No statistics

Pro version

Print and save an unlimited number of pages
No watermark on pages
Detailed printing statistics (see below)
Global enterprise statistics available on request
What is the problem with the current print dialog?
Each app may offer a different user experience and interface, actually the driver of each printer works differently and offers advanced options that most users don't use, because it requires too much clicks to access them.
Using GreenCloud Printer as your default printer, you will have a consistent experience and whatever the printer or hosting service to share your document you will have the same functions anywhere, anytime.
Who doesn't waste paper because there is an extra blank page or a page with only 2 lines of text which is the header of a web page. Especially true when you print web pages so basically a few pages. That's where you waste the most paper, inks, and so to say trees. Save your time, save your money, just preview and validate the pages you really need to print, or combine several pages when it is only a draft or paper to read job.
With GreenCloud Printer, our test panels show you can save an average of 35% of paper by merging pages on each sheet of paper, or just remove unwanted pages before it is too late thanks to the preview dialog!
In 1 click you can also choose to use the two-side (duplex) mode of your printer, or also reduce the used ink by turning the font to dark gray instead of pure black.
For the office, and people working with Word, you can remove your existing PDF converter as you can convert doc to PDF free directly from the print menu*.
Be rewarded for your effort
We don't want GreenCloud printer to be boring to use, so we have implemented badges, which will reward you when you save paper, ink or trees by using one of the tools available in the application. Using a green printer driver is cost effective alternative to toner saver provider.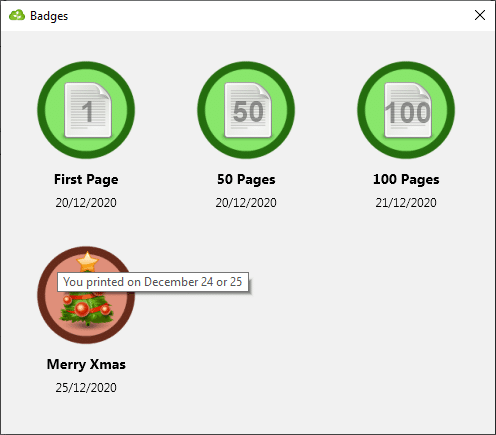 Statistics
With the pro version you can view your exact consumption of paper and cost per day, week or month.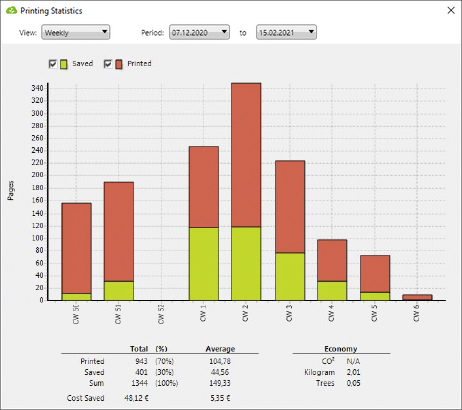 If you need a GreenCloud manual, you should just look at our forum.
Or look at our short videos on Youtube (on top of this page).
A lot of people only think of buying cheaper ink cartridges and other sustainable hardware solutions, but GreenCloud Printer is a great alternative to existing ink saving software for Windows. Start today feeling happy to download a cost cutting software solution, an eco-friendly eco-saving driver to save per page costs, and become a sustainable part of green active members. It's suitable too as a solution to convert Word to PDF.
You can also follow this blog for latest tips from green companies: www.mycompanyisgreen.org
* In the free version the number of pages is limited, and a notice is added to pages. Obtain the Pro version to remove those limitations.